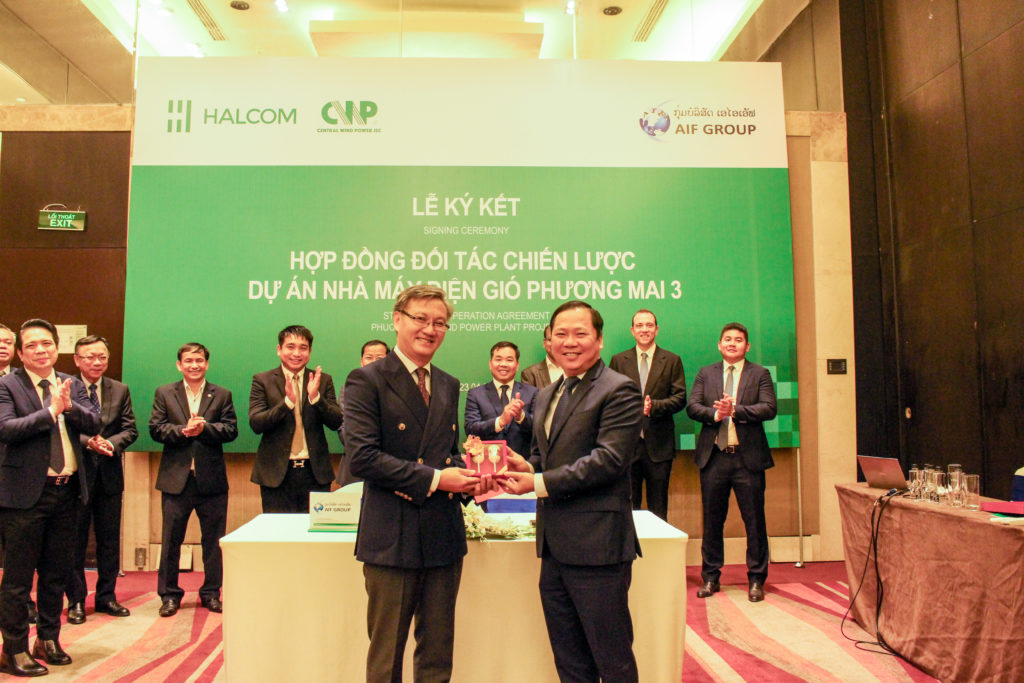 The signing ceremony, Ambassador Thongsavanh Phomvihane highly appreciated the collaboration between the two companies, Halcom Vietnam JSC and Asia Investment Financial Group Limited (AIF). The Ambassador informed that this is the first collaboration project in renewable energy sector between Laos and Vietnam.
Speaking at the ceremony, Mr. Nguyễn Phi Long – Vice Chairman of Bình Định PPC was happy to see that AIDC is investing in 1 project in Bình Định. This is a success in development of economic cooperation between the two countries.
Phương Mai 3 Wind Farm is invested by Halcom Vietnam JSC; operated by the project enterprise Central Wind Power JSC (CWP) in Nhơn Hội economic zone, Bình Định province. The Wind Farm is designed of 6 turbines, with capacity of 3.5 MW each; the total nominated capacity is 21 MW; Power generation is 77.945 million kWh/year.
"This first project helps us to improve our management capacity and gain our confidence in developing a series of upcoming projects. As planned for the next 3 years, we will develop and put into operation the wind and solar power projects with total capacity of about 300 MW. In addition, we have been developing more projects on water supply and drainage and solid waste treatment with total investment of tens of thousands of billions of VND."- Mr. Nguyễn Quang Huân stated in his speech.
Speaking at the signing ceremony, Mr. Pheutsapha Phoummasack – President of AIDC said that: AIF and AIDC is one of the leading firms in Laos PDR, investing in many sectors such as: hydro-power, renewable energy, infrastructure, real estate, banking, lottery, etc. Apart from doing business in Laos, the group also invest in Thailand and Cambodia. And for Phương Mai 3 Wind Farm, we are confident that this project will be successful and the collaboration between the two enterprises will be an important milestone and open further collaboration in larger scale projects.